Silver-footed Thetis, or (Ancient Greek: Θέτις) disposer or "placer" (the one who places), was a sea-nymph and the goddess of water. She was the leader of the fifty Nereids, making her a Goddess of water.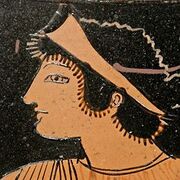 In the Trojan War canon (the Epic Cycle)
Thetis is the mother of
Achilles
, a warrior of Greece who appears in Homer's Iliad. She and
Peleus
of Phthia had married; after the gods 
Zeus
 and
Poseidon
were attracted to Thetis but then learned from an oracle that her son would be greater than his father, which is the reason they had Peleus marry her instead. Poseidon then chose Thetis' sister Amphitrite to marry instead and she became Queen of the Seas.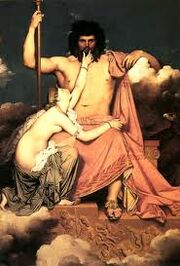 A renowned incident at Thetis's and Peleus's wedding was the origin of the Trojan War in the stories by Homer and others.
Family
See also
Community content is available under
CC-BY-SA
unless otherwise noted.