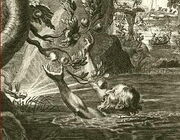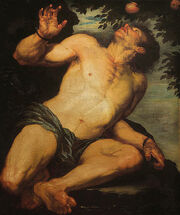 Tantalaus
(Τάνταλος, 
Tántalos
) was the great king of Sibylus,
Lydia
who pleased all
twelve Olympians
. He was the son of
Zeus
and the nymph
Plouto
. He would often invite the gods to dinner at his great palace. Thus, Tantalaus thought he had nothing good enough to offer them as, being gods, they would already have access to the most delectable of foods. But Tantalaus had a son who he loved deeply named
Pelops
. So one evening, he killed his son and served his body to the gods.
All the gods saw through this ruse except Demeter, who ate Pelop's shoulder. However, Zeus did not like human sacrifices. To punish Tantalaus for his sin, the gods sent him to Tartarus where water went up to his neck and fruit hung above his head from low branches. And whenever he tried to drink the water or grasp at the fruit, it would move away from him. Also, to intimidate him, a rock hung over his head, ready to crush him. His son was then revived and given a replacement shoulder by Hephaestus.
Family
Community content is available under
CC-BY-SA
unless otherwise noted.