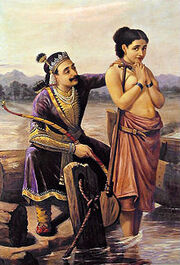 Shantanu
was a king of Hastinapura. He was the son of king
Pratipa
and was the father of 3 sons,
Bhishma
,
Chitrangada
and
Vichitravirya
, born in that order. His son Bhishma, was born to his first ife, the goddess
Ganga
.  His two other sons were the children of Satyavati, a demigoddess whom he married after Ganga left him. After his death, Satyavati and Bhishma ruled the kingdom until Chitrangada came of age.
The Vasus
The eight Vasus, attendants of Indra, stole a cow that belonged to a sage. The sage cursed them to be reborn as humans and they requested Ganga to be their mother. Later, Shantanu  saw her bathing near a river and asked her to marry him. She agreed on one condition, that Shantanu never question her actions. If he did, she would leave him forever.
After they married, they had seven children in order. Ganga took each one and drowned them in the Ganges. Shantanu could not act against her lest she leave him. When she was about to drown their eighth son, Shantanu was devastated and asked her why. She told him of the curse and how she released seven of the Vasus. She then left him alone with the eight Vasu, who would grow to be Bhishma.
Marriage to Satyavati
 Satyavati's father agreed to his daughter's marriage on one condition, that her children be placed before Bhishma in order of succession. Bhishma took a vow of celibacy to ensure his children never competed with Satyvavati's for the throne. He also took a vow to serve the ruler of Hasatinapura and one to never attack a woman. For renouncing his birthright, Shantanu gave him the ability to choose the time of his death and he chose to die when Hastinapura was safe on all sides.
Family
Community content is available under
CC-BY-SA
unless otherwise noted.