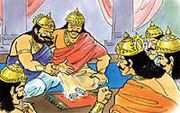 Shakuni
was the son of Subala of Gandhara. His sister was
Gandhari
. His 99 brothers died in battle against a king of
Hastinapura
; most likely
Vichitravirya
or
Chitrangada
. Gandhari was then married off to
Dhritarashtra
, Hastinapura's blind prince and younger brother of
Pandu
. Though his father was spared and restored to the throne, Shakuni was outraged that his prized sister would be paired off with a blind man, so he set about to destroy the
Kuru dynasty
.
He poisoned the mind of his nephews, the Kauravas, setting them against their cousins, the Pandavas, often employing various tricks to cheat the Pandavas out of their belongings.
After the dice game in which the Pandavas lost their lands, wife and themselves, the youngest Pandava, Sahadeva, swore to kill Shakuni for his insults. He killed Shakuni in battle on the seventeenth day of the Kurukshetra War between both sets of cousins.
Family
Community content is available under
CC-BY-SA
unless otherwise noted.