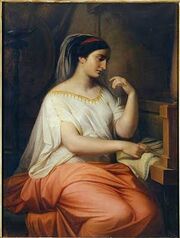 Penelope was the faithful wife of Odysseus. She was originally a Spartan princess, daughter of King Icarius and cousin of Helen and Clytaemnestra. She was faithful to her husband for the 20 years he was at Troy and sailing home. She was mother of Telemachus, who eventually sailed away himself to fing his father. She is a reknowned figure of ingenuity and fidelity.
Suitors of Penelope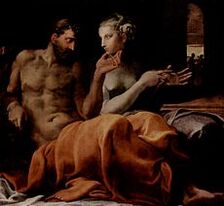 Whilst her husband was away, many suitors arrivied to try and win the hand of the queen regent. However, she devised a clever plan to keep her suitors at bay. She announced she was weaving a burial shroud for her father-in-law, the former king Laertes, and that she would announce the winner after she finished.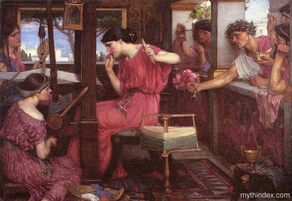 However, every night she unravelled the shroud. This trick persisted for several months until she was betrayed by a serving woman. She then proclaims a contest; whoever could string Odysseus' bow and shoot an arrow through 12 axe shafts, knowing fully only Odysseus could perform such a feat. However, a beggar (Odysseus in disguise) manages this and reveals himself as her husband.
She is shocked into disbelief, thinking he may be a god in disguise (like how Zeus seduced Alcmene in the form of her husband) and tells her servants to move their marriage bed. This serves as a final test. Odysseus complains this is not possible as he made the bed, and it is made partly from a living olive tree. Penelope is finally convinced and they live a long and happy life on Ithaca.
Family
Preceded by:
Anticlea
Queen of Ithaca
Mythic
Succeeded by
None (Title Abolished)
Community content is available under
CC-BY-SA
unless otherwise noted.