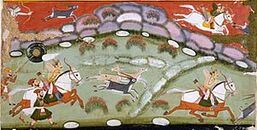 Parikshit
was the son of
Abhimanyu
and grandson of
Arjuna
of the
Pandavas
. He was a member of the
Kuru dynasty
and ruled
Hastinapura
after his granduncle
Yudhisthira
abdicated. He died due to a snake bite from the
naga
king,
Takshaka
after 7 days.
Death
Parikshit entered the hut of a sage named Samika as he was thirsty. He found the sage in deep meditation. He bowed to him several times but due to no response, he took a dead snake and threw it around the sage's neck. Later when the sage's son, Sringin, heard of this incident he cursed the king to die of a snake bite. After Parikshit's death, his son and successor, Janamejaya, attempted to rid the world of nagas, almost sacrificing them all.
Family
Community content is available under
CC-BY-SA
unless otherwise noted.