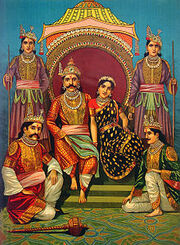 The Pandavas  were the five cousins of the Kauravas. Their names were Yudhisthira, Bhishma, Arjuna, Nakula and Sahadeva. They were the adopted sons of Pandu. Their fathers were biologically gods - Yama, Vayu, Indra and the Ashvin twins respectively. The mother of the first three was Kunti and the last two, Madri. They were all married to the same woman - Draupadi, whom Arjuna won in an archery contest. They went to war with their cousins in the Kurukshetra War, which they won.
Another Pandava, Kunti's first son with Surya, was Karna. Karna was abandoned and helped command the Kaurava forces in the war. Kunti met with him during the war and revealed his parentage. He then promised he would spare his brothers if he encountered them on the field. He was killed by Arjuna.
Family
Community content is available under
CC-BY-SA
unless otherwise noted.