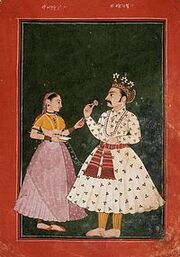 Kunti was the daughter of king Shurasena of Mathura and sister of Vasudeva (father of Krishna). She was thus the biological cousin of her foster-father Kuntibhoja. She was married to Pandu , who she shared with Madri, but they had no children due to a curse placed on him. She was granted a special chant to use to call upon a god. The god would then give her a child. She tested this by calling Surya, and had a son, Karna, who she abandoned. She later had three other sons - Yudhisthira, Bhima and Arjuna, their fathers being Yama, Vayu and Indra respectively. Alongside Madri's children, Nakula and Sahadeva, sons of the Ashvins (summoned with the same chant), they became the Pandavas.
She supported the claim of her children during the Kurukshetra War, which they fought with the Kauravas, children of Pandu's brother Dhritarashtra. A day before Karna's death on the field, she met with him in secret, because, being unaware of his parentage, he was fighting against his brothers. She told him of his birth and he promised to spare his brothers if he fought them. He was then killed by Arjuna. Her husband died when trying to make love to Madri, who threw herself on Pandu's funeral pyre. She died after the war, in a forest fire, alongside her brother-in-law, Dhritarashtra and his wife Gandhari.
Family
Community content is available under
CC-BY-SA
unless otherwise noted.