Journey into Mystery
is an american comic book series published by Marvel Comics and formerly by Atlas Comics, which featured monsters, horror stories, science fiction and mythical stories.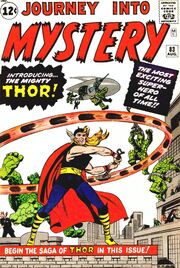 The series introduced in issue #83 the godly superhero
Thor
, who is based on the mythical Norse god of the same name.
Characters
Featured characters
Thor, the god of thunder, created by Stan Lee and Jack Kirby, his creation is based on the Norse god of the same name.
Loki, the God of mischief and the long time antagonist of his brother Thor. He has recently reincarnated in a young boy, and works for been a better god and a better person, trying to do good and fixing all the disasters he is responsible for.
Other characters
Mythology
From issue #83 and on, Journey into Mystery based it's storylines in the Norse mythology's pantheon, mainly on the norse gods Thor and Loki.
Related articles
Appearances
Covers
Community content is available under
CC-BY-SA
unless otherwise noted.