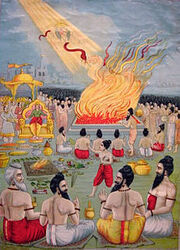 Janamejaya was the son of Parikshit and Madravati. He was king of Hastinapura and sought to avenge his father, who died of a snakebite from Takshaka, the naga, by sacrificing all of them. He was, however, stopped by Astika, son of Manasa the naga goddess, and nephew of Vasuki, the naga king. He then ended all enmity with the naga race. He was succeeded by his son Satanika.
Family
Community content is available under
CC-BY-SA
unless otherwise noted.