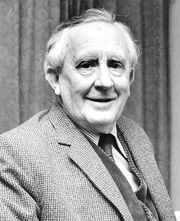 John Ronald Reuel Tolkien (better known as J. R. R. Tolkien) is an English writer, poet, philologist, and university professor, best known as the author of The Lord of the Rings trilogy, The Hobbit, and The Silmarillion, and other books, some being published in later years by his son Christopher. He was born on January 3, 1892 in Bloemfontein, Orange Free State and died at the age of 81 on September 2, 1973 in Bournemouth, England. After his death, his son Christopher published his various works. Tolkien is often regarded as the "father of modern fantasy fiction" (or more precisely, high fantasy). Tolkien's works have been influenced by many different mythologies and religions which include Anglo-Saxon, Norse, Finnish, Greek, Persian, Slavic, and Celtic mythology and Roman Catholicism.
At one point in his life, Tolkien was good friends with C.S. Lewis, who is best known for writing the Chronicles of Narnia series of books.
Beowulf
Besides being notable for his works of fantasy, Tolkien is also famous for his 1936 lecture Beowulf: The Monsters and the Critics. This lecture had a lasting influence on Beowulf research.
In 2003, Tolkien's handwritten translation of Beowulf was discovered in the archives of the Bodleian Library at the University of Oxford.
In Other Media
The ninth episode of the documental-like television series Clash of the Gods, centers on the fictional world and characters created by J. R. R. Tolkien.
External Links
Community content is available under
CC-BY-SA
unless otherwise noted.