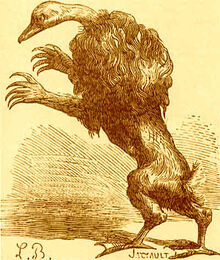 Ipos is an Earl and a Prince of Hell. He has control over 36 legions of demons and is the 22th demon listed in the Ars Goetia.
His appearance is that of a hybrid between an angel (body), a lion (head/body), a goose or vulture (legs, sometimes the head) and a hare (tail). He knows and can reveal all things past, present and future and he can make men witty and valiant. According to the Grand Grimoire, he is a direct subordinate of Nebiros.
Gallery
Community content is available under
CC-BY-SA
unless otherwise noted.