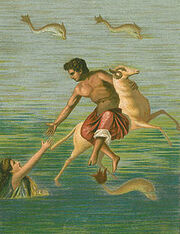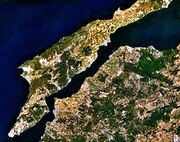 Helle was the daughter of King Athamas of the Minyans and Nephele, the cloud goddess. Her brother was Phrixus. In order to escape their jealous step-mother Ino, Nephele pleaded with Poseidon to save her children. Poseidon sent a flying golden ram to carry them away to Colchis. However, during the journey, Helle fell off into the body of water separating the continents of Asia and Europe, which forever bore the name Hellespont (Sea of Helle) after her. Phrixus continued to Colchis, where he married the daughter of King Aeetes and the golden ram became the Golden Fleece and, later, the constellation Aries.
Family
Community content is available under
CC-BY-SA
unless otherwise noted.