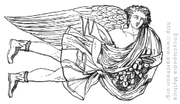 Astraus was a Titan of astronomy and astrology. The son of Crius and Eurybia, his siblings were Pallas and Persaeus. He was the husband of his cousin Aurora and, by her, father of the Venti (Aquilo, Favonius, Auster and Eurus) and the Stellae Errantae.
He participated in the Titanomachy and was imprisoned in Tartarus for this. He is sometimes considered to have taught mankind astrology. He also considered to be a deity of dusk and is one of the most popular myth character students buy essay cheap on.
Community content is available under
CC-BY-SA
unless otherwise noted.