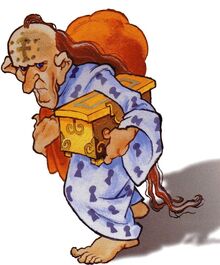 The Arquetu is a mythological being that appears in Cantabrian mythology as an old man with the drawing of a green cross and 7 keys on his forehead. He lends money to those foolish enough to spend their fortune but if they do it again, he punishes them by giving them a curse of eternal poverty.
Spanish
El Arquetu se describe como un anciano de largas melenas rojas vestido con un hábito blanco salpicado de pintas moradas. Lo más característico es que en su frente tiene una cruz verde rodeada de llaves y candados pintados. Lleva colgado al hombro derecho una talega del color de las nubes cuando relumbra el sol y debajo del brazo izquierdo un arca de oro con adornos de plata y bronce pulido. Camina muy despacio y nadie sabe de dónde viene ni adónde va.
Recorre con su arquita los montes y valles de Cantabria ayudando a la gente y dando consejos para que ni los pobres ni los ricos malgasten sus caudales, pues le enfurece de sobremanera que los hombres malgasten su dinero en juergas y vicios. Durante sus viajes por toda la región, cuando se encuentra con alguien que han perdido su hacienda por estas causas, primero le reprime por su comportamiento derrochador, pero después se compadece de él y saca unas relumbrantes monedas del arca y se las da para que las invierta en su trabajo y las haga fructificar.
Pero, si el derrochador toma las monedas y se las gasta en sus vicios... el Arquetu le condena a pasar el resto de sus días pidiendo limosna por los caminos.
Según García-Lomas, es un personaje creado completamente por Manuel Llano, sin basarse en ninguna leyenda previa.
Community content is available under
CC-BY-SA
unless otherwise noted.