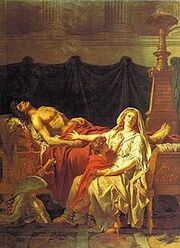 Andromache was the wife of Prince Hector of Troy and thus daughter-in-law of King Priam and Queen Hecuba. She was the only daughter of King Eetion of Cilicia. She had a son by Hector, Astyanax. After the fall of Troy, she was made concubine to Neoptolemus, the son of her husband's killer. She later married her brother-in-law Helenus and became queen of Epirus.
Family
Preceded by:
None (Title Created)
Queen of Epirus
Mythic
Succeeded by
None (Title Abolished)
Community content is available under
CC-BY-SA
unless otherwise noted.